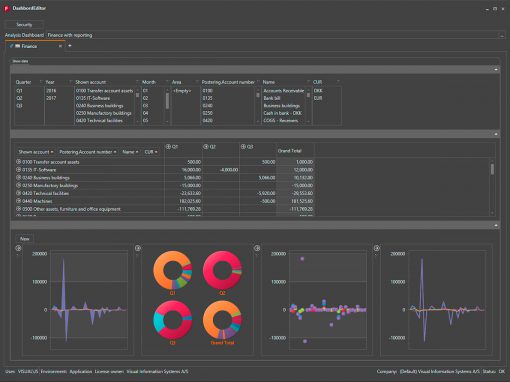 Overview with Data Analysis
Figurator offers not only the functionality needed for all processes in the business, but also built-in Data Analysis on par with dedicated systems that can be a substantial strain on the IT budget.
One of the advantages of having data analysis build-in instead of bolted-on is that it allows you to drill through to the actual data behind your analysis – out of the box, in the same system.
Figurator Data Analysis is easy to work with, even if you need to customize it.
User friendly
The interface in FIGURATOR can be user customized, so you can achieve an uncluttered and maximum effective user experience.
Even the shortcuts can be setup to what is appropriate for your organization. You can choose from a range of predefined short cut standards, or you can define your own.
It is possible to select appearance through themes that define colors, fonts and sizes. Themes can be assigned to a set of accounts or data. This could for example make it easier to determine if you are in the test or production environment.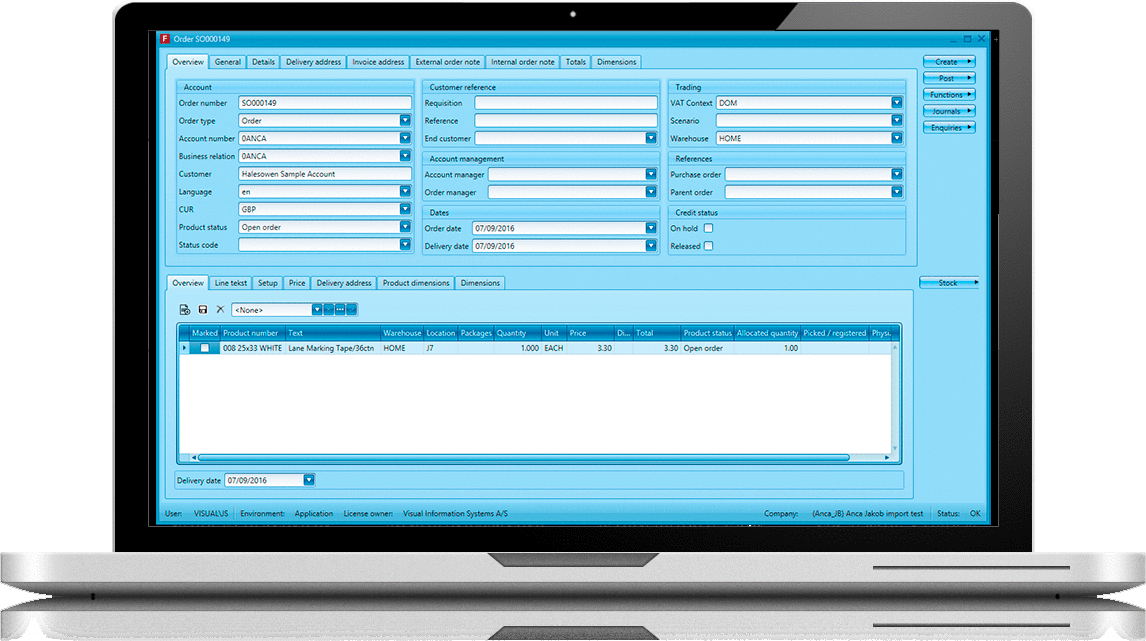 Built-in or Bolt-on ?
Figurator is a true 360° business system, with build-in CRM, Finance, Order Processing, Logistics and Data Analysis.
There is no need for synchronization or 3.part systems bolted-on through an API, which may not be developed at the same speed, in the same direction and with the same commitment as native modules engage.
Figurator is born as one solution, resulting in an inherited coherent solution gained from being built-in.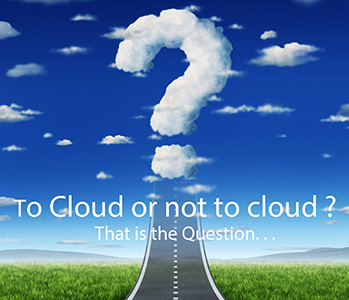 Move to the Cloud or Not?
Many companies choose a 100% internet based solution, a decision that is easier for some than for other – simply because any choice is inherently a deselection of something else.
Changing system is not cheap, so why not choose the best of both worlds making it possible to switch between the two or combine them into the perfect solution.
With FIGURATOR it is your decision how you want your IT infrastructure designed, and if at some point you need to change that decision – you can do so without huge expenses or even worse having to change to a new system as a consequence.
Are your business 100% standard?
The world is in color, not just black & white. The same way companies are rarely 100% identical, even in the same industry, there are crucial differences – large and small – simply due to normal competition.
The details that gives your particular business the edge over the competition, can in FIGURATOR easily be implemented as part of your administrative systems. You are not depended on the existence of a provider with a perfect system covering your needs that it is possible to interface within a reasonable investment.
You can expand or customize FIGURATOR with an intuitive efficient tool kit, and that even without updates becoming cumbersome and expensive.
No more compromise.